PARENT REVIEW
This place and the staff are awesome!!! I have seen such a difference in my child since he has been attending this martial arts school!
- T. Gamble
PARENT REVIEW
Both my kids love going here and Mr. Ruth and his Jr. Instructors are great with helping the kids focus on what they need to learn and grow into responsible kids.
- C. Marsh
PARENT REVIEW
My daughter loves taking classes here! She has learned a lot and has a blast doing so! Charles Ruth is great with the kids and is an awesome teacher!
- J. Gass




Free Trial Program - Call or Text Us Today - (865) 253-3675

Programs

Fusion Martial Arts offers two programs for our Karate for Kids classes.
The Eagles Program: This class is for our students who are 6 to 8 year of age. This class takes our regular beginner curriculum and splits it in half so that its easer for children of this age to understand and accomplish.
The Youth Karate program: This class is for students who are 9 years of age and older.
Both classes are designed to improve your child's self-esteem, self discipline, as well as their focus through fun and exciting classes

Fusion Martial Arts prides itself in its amazing Leadership Team who love to work with children of all ages. We enforce good rules of behavior in class and expect the same good behavior at home and school.

All of our Karate for kids classes incorporate Tae Kwon Do, kickboxing, self defense as well as the award winning One Merit Badge program that teaches everyday life skills in a fun and engaging way. Most important of all, it's fun.



What Can I expect out of the Karate for Kids classes?


For your child to be excited about being in class.


Eager to work towards new goal by either earning new stripes, belts, or merit badges


Learning to work in a team or group environment


Learning to be a leader and striving to do better in class


Better focused at school


Better listeners at home


Better manners
NO CONTRACTS - MONTH TO MONTH - FAMILY RATES AVAILABLE - CALL TODAY!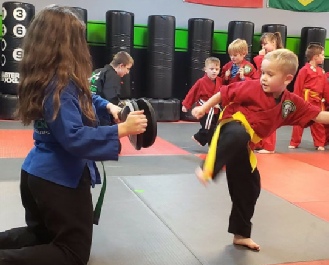 TRIAL PROGRAM
1 Week FREE (three consecutive classes)

FIRST MONTH FEE - $130
Includes: One month of class, boxing gloves, and a uniform.
MONTHLY FEE
$100 a month - No Contracts
CLASS SCHEDULE
Mondays - Eagles 4:30 - Youth 5:00 p.m.
Wednesday - Eagles 4:30 - Youth 5:00 p.m.
Friday - Eagles 4:30 - Youth 5:00 p.m.