PARENT REVIEW
This place and the staff are awesome!!! I have seen such a difference in my child since he has been attending this martial arts school!
- T. Gamble
PARENT REVIEW
Both my kids love going here and Mr. Ruth and his Jr. Instructors are great with helping the kids focus on what they need to learn and grow into responsible kids.
- C. Marsh
PARENT REVIEW
My daughter loves taking classes here! She has learned a lot and has a blast doing so! Charles Ruth is great with the kids and is an awesome teacher!
- J. Gass




Free Trial Program - Call or Text Us Today - (865) 253-3675

Programs

The Fusion Martial Arts After School Program and the Fusion Summer of Fun Day Camp is two of our most sought out programs.

The Fusion After School Program is the result of years of teaching and working with children of all ages combined with being a parent and having the need for an after school activity that is not only constructive, educational, fun and safe. This program fits all of my needs as a parent.

This program offers children exciting alternative to standard after school day-care because we are NOT a day care. Our program is affordable, fun, and educational.
What is a normal day like?
Fusion Martial Arts will pick up your child from school between 3:00pm and 3:30pm and transport them to our Fusion Martial Arts Training Center. Our Academy is located at 680 East Meeting Street in Dandridge.
We will arrive at Fusion Martial Arts around 3:45. Students will have 15 minutes to have a snack and get changed into their uniforms. They will then join in our Evening Martial Arts Class.
Once their class is over, the students who haven't been picked up have the option to work on homework, play games, read, or take part in another class. We offer all student some down time to be able to study.
Pick up hours are between 4:30 and 6:00.
After school student learn the same material that students who are in the evening programs including:


Character Development
Self Defense
Kickboxing
Sparring
Weapons
NO CONTRACTS - MONTH TO MONTH - FAMILY RATES AVAILABLE - CALL TODAY!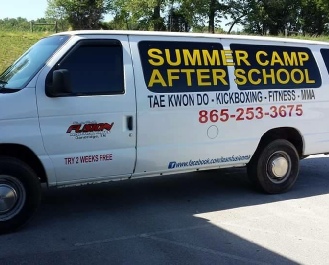 TRIAL PROGRAM
1 Week FREE
Weekly Fee
Part Time Schedule - 1 to 2 Days a week
$45.00 per week

Full Time Schedule - 3 or more days a week
$60.00 per week


Pick Up Time
All classes are done by 4:30
Pick up time is between 4:30 - 6:00
We Pick Up From
Dandridge Elementary School
Piedmont Elementary School
Mount Horeb Elementary School
The Patriot Academy
Maury Middle School